02/23/12
W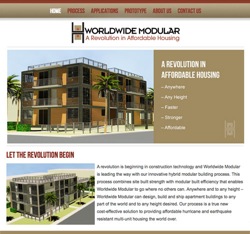 hippet Creative is excited to introduce a newly developed website for
Worldwide Modular
. Gary Goldman, CEO, developed a revolutionary new way to build affordable site-ready housing that's both hurricane and earthquake resistant. The concept is actually based on a simple and elegant principle: a wine rack! By first building an exoskeleton (the wine rack), finished pre-fabricated units are slid into place (the wine bottle) to complete the structure. The process is extremely efficient and has no height limitations. And on top of that, the pre-fab living units fit into a standard sized cargo container which can be easily shipped worldwide.
Fetch More...
01/11/12
H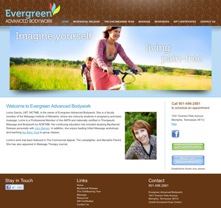 ere we go again. It's the start of a New Year and I'm thinking of how I can be a better person: healthier, more efficient, better looking (probably already too late for that!).
But to heck with all of that...what I really want to do is tell everyone about a new website Whippet Creative just launched for
Evergreen Advanced Body Work
! The new site supports Lorrie Garcia's passion for providing therapeutic massage, including Myofacial Release, for anyone needing relief from pain, or those who just want to feel better.
Fetch More...