My New Year's Resolution: Eat Better... and Feature New Websites
H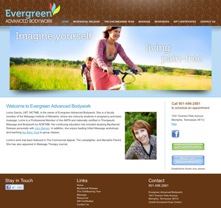 ere we go again. It's the start of a New Year and I'm thinking of how I can be a better person: healthier, more efficient, better looking (probably already too late for that!).
But to heck with all of that...what I really want to do is tell everyone about a new website Whippet Creative just launched for
Evergreen Advanced Body Work
! The new site supports Lorrie Garcia's passion for providing therapeutic massage, including Myofacial Release, for anyone needing relief from pain, or those who just want to feel better.
Evergreen Advanced Body Work's website features a new logo design, large rotating Javascript banner, greybox photo functionality, social media, contact forms, a Content Management System and online gift certificates.
We're really proud of how Lorrie's new site looks and functions. Please
let us know
if we can help build a
custom website
for you.