Ready. Set. Cyber Monday!
C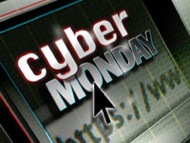 yber Monday is the first Monday after Black Friday. It's also the first Monday after Thanksgiving, and the biggest online retail day of the year. So, what should you do to make sure your website can handle all of the orders on this most auspicious day?
Here are a few tips to consider:
Make sure your website is up-to-date with all of your latest products and information.
Test your system by placing an order yourself.
Give you customers a clear and concise page for ordering your products.
Use social networking, email marketing and back links to make your audience aware of your website.
Register your website with Cybermonday.com, a website that lists websites and sales.
Optimize your search engine with targeted long tail key words.
Make sure your shopping cart is secure with an up-to-date SSL Certificate.
Be sure to follow up with your customers by emailing receipts, a thank you or special offers customers can subscribe to.
If your website isn't ready for Cyber Monday,
let us help
. Whippet Creative specializes in
website development
and e-commerce in Memphis, the mid-south...and beyond. We're always happy to provide a
free 1-hour website assessment
to make sure your website is optimized for the upcoming holiday sales.
Happy selling!